Getting Help
Applying for Help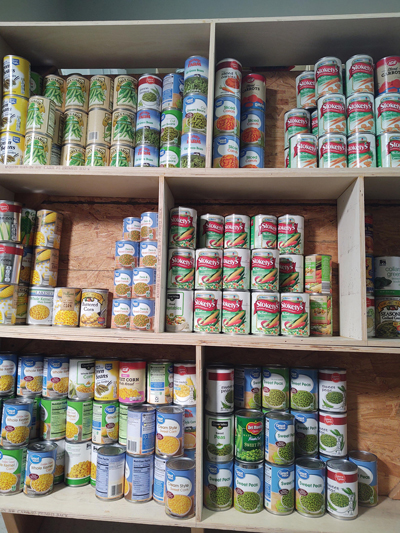 UCM provides food, toiletries, personal items, household items, and financial assistance.You may pick up food and personal items every two weeks.
For assistance, apply in person at our office at 191 Skyland Drive. Bring a photo ID and a utility bill or other bill showing proof of residence in Jackson County. A staff member will speak with you and help find the best way we can offer assistance.
Covid procedures: to help mitigate the spread of illness, only staff and volunteers are allowed in the building at this time. Please drive up and someone will come out to assist you. If no one comes out to help, please call 586-8228 to let us know that you are outside.
How we can help
Food Assistance:
We have a full assortment of food items available: fresh fruits and vegetables, canned foods, frozen meats, cereals, pastas, soup, oatmeal, peanut butter, jelly, and more.
Personal Items & Household Goods:
We provide personal toiletry items (soap, shampoo, toothpaste, etc.) and household items (laundry detergent, dish detergent, etc.) when available. We do not provide furniture, clothing, household items, mattresses, or appliances.
Financial Aid:
Limited financial assistance is available to residents of Jackson County. UCM can assist with overdue utilities, past due rent, prescription co-pays, and other bills as funding allows. To apply for financial assistance, please bring an official bill or statement showing the amount due, as well as contact information for the agency to be paid.
Winter blankets,Thanksgiving, & Christmas:
During the winter months, we distribute donated blankets as available. For Thanksgiving, we provide items for your Thanksgiving meal. For Christmas, we partner with our local schools to provide food bags for families to help ease the added food needs when school is out for Winter Break.
Spiritual Assistance
As a Christian Ministry, we would be honored to provide you with a bible, bible study aids, or a referral to a local pastor.
Referrals:
If we cannot meet all emergency needs, we can refer you to other agencies with whom we have good working relationships. We work with the Community Table, Great Smokies Health Foundation, HERE of Jackson County, Jackson County DSS, Department on Aging, Jackson Neighbors in Need, and more.